I'm thinking about becoming a hypnotherapist...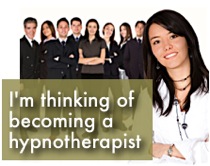 We often get calls and emails from people who are considering a future in hypnotherapy, and they have questions about the industry, legal requirements, opportunities, and more.
View AAPH's list of Hypnotherapy Schools
Here's a list of common questions and answers about building a future in this wonderful industry. You can learn even more by searching the Internet and reading the FAQ's (Frequently Asked Questions) at the various hypnotherapy schools and training centers.