Join AAPH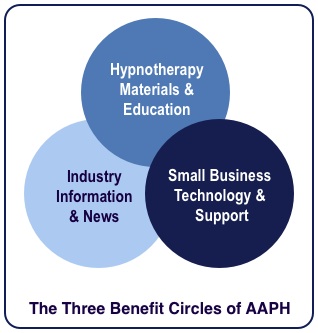 Why join AAPH? Read about AAPH to discover the many professional benefits and opportunities that membership provides to you.
Requirements
There are two types of membership:
Student Members: Still in hypnotherapy school? You can join AAPH as a student and have full access to the library, member's areas, study groups and mentor program. Students can not blog on the site and do not receive certificates.
Professional Members: If you have completed at least 100 hours of training in hypnotherapy, and at least 50 of those hours are live classroom, instructor-led hours, then you can become a professional member of AAPH. You must pass an examination to receive a certificate and blogging privileges.
It's easy to join AAPH. The process has three steps.
STEP 1) Complete Online Membership Application
That gives us your background information, name, location, etc. Use your professional information here, as this database is also the basis for the Member Directory. People all over the world use the Member Directory to find hypnotherapists in their area for appointments.
Complete your application here.
STEP 2) Submit membership dues
Membership dues are paid annually.
Student Members, $99/yr - (pay student dues here)
Professional Members: $180/yr plus a one-time $35 examination fee - (pay dues here)
You can submit membership dues online at the AAPH Online Store using a credit card or Paypal.
Or, mail a check or money order for membership dues to us at:
AAPH
1430 Willamette St. #47
Eugene, OR 97401-4049
Step 3) Complete the online examination.
Once we have received and reviewed your application, we'll email you the link to the exam. Plan to spend about 20-30 minutes answering 25 questions. Pass the exam with a score of 80% or better, and you qualify to join the association as a professional hypnotherapist. The exam covers hypnotherapy principles, concepts and knowledge; scope of practice; health, safety & welfare; code of ethics; and administrative & legal.
If you aren't ready to take the exam, or you don't have all of your required training hours completed yet, you can still join as a student while you complete your training. Students do not receive membership certificates until they complete their training hours and pass the examination.
A note on training: Your training hours can be with any approved hypnotherapy school in the world, and supplemental hours can be from online courses. AAPH provides continuing education in both advanced hypnotherapy methods and business skills. Continuing education is available once you have been certified.