About AAPH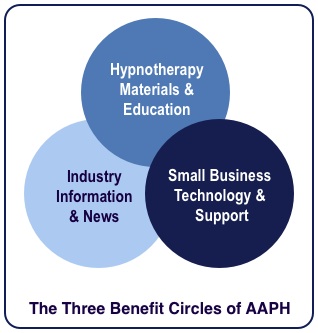 The American Association of Professional Hypnotherapists was founded in 1980 to support hypnotherapists in establishing and successfully operating their own hypnotherapy businesses.
It remains the main mission of the association today. As technology continues develop and small business changes for the 21st century, AAPH brings new know-how and resources to our members: industry news and information, hypnotherapy information, business information and support, and technical business resources.
Read on to discover many of the benefits that AAPH brings to its members.
Member materials
When you join, you receive:
a large 11x14 handsome wall certificate of membership to be proudly displayed on your office wall;
discounts and eligibility for hypnotherapy liability and business insurance (US only);
professional code of ethics for your office wall;
client bill of rights to copy and use (esp. recommended for California hypnotherapists);
listed in our popular online referral directory (we are ranked very highly at Google);
an optional "Office Page" web page on the AAPH web site with your own custom web address (free);
21st-century marketing programs like the professional blogging program and online profile;
access to the members-only area on the web site (the AAPH Library) with scripts, articles, techniques and more;
Online & Internet marketing member programs.
The 21st century is here, and we now have an entire generation (under-35) that no longer uses the phone book and newspapers to find goods and services, but uses the Internet instead. At AAPH, we want to make it easy for you to have an effective, free or low-cost online presence without the technical headaches. AAPH offers:
popular referral database lists you for people searching the Internet for hypnotherapists in their area - free for members;
links to your web site - free to members;
online Professional Profile page on the AAPH web site;
optional "Office Page" gives you your own web page at AAPH - a mini-web site, especially useful for those without their own web site;
online in-take forms for clients, both instant forms and downloadable to print;
easy and free professional blogging program;
support services for producing your own MP3 hypnosis audio sessions;
access to selling MP3s, books and materials through the AAPH Online Store.
Member knowledge sharing and AAPH Library.
Information at your fingertips, selected and written with professional hypnotherapists in mind, is a major advantage to your business. Make researching the industry and keeping up with new laws and business information easy. In the Library, you'll find resources like these:
legal news watch for national laws, insurance laws and state laws;
publication of "Hypnotherapy Today," the Journal of AAPH, with articles, inductions, and interviews;
back issues of the Journal;
the AAPH podcast brings audio interviews with members and industry professionals;
sample induction scripts in the web site Library;
lists of training schools and courses;
online videos, audio, web links and articles about hypnotherapy;
industry news and commentary on the web site;
Other member benefits & opportunities.
Building your image as an established professional is important to both your current and future business. Gain additional exposure and credentials through the programs and opportunities brought to you by AAPH:
publish your articles & inductions in the AAPH Journal;
guest star on the AAPH podcast.
Professional Continuing Education
We are also bringing back our continuing education programs, bringing advanced and specialized hypnotherapy courses to our members via web, CD, MP3 audio and DVD. We have several courses in production now. Certificates will be available.
Continue to grow in your expertise and fluency of advanced hypnotherapy with courses you can complete at your own pace and schedule.
Join the professional association that is committed to supporting you both on the hypnotherapy side and the business side of your profession: gain all the benefits that AAPH can give you.
Join today, and boost your journey on the road to be the best professional you can be.